My friend Shibani shared these gifs on Twitter and I suddenly found myself understanding how my cat feels when he sees a bug: absolutely mesmerised. I seriously have trouble tearing my eyes away.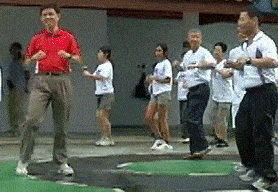 Sometimes Chan Chun Sing (Acting Minister for Community Development, Youth and Sports) just cracks me up. Sometimes I think he might just be my favourite. Here he leads the community in an invigorating exercise – the chicken dance. Sadly they're not youth or we could have hit all three focuses of his ministry in one little gif of goodness.
Sadly Minister for Trade and Industry Lim Hng Kiang did not get the exact moves of the chicken dance, and ended up doing the penguin instead:
This isn't the only time Chan Chun Sing's participated in sporty activities, though. Here he teaches Deputy Prime Minister Teo Chee Hean about football:
GOALLLLLL!!! And the crowd goes wild:
Everyone celebrates with a good beat:
Minister for Transport Lui Tuck Yew, Deputy Prime Minister, Minister of Finance and Minister of Manpower Tharman Shanmugaratnam and Minister for Community Development, Youth and Sports Chan Chun Sing lead the proceedings…
…while Prime Minister Lee Hsien Loong provides some backup.
Now I really want our Ministers to form a drum troupe when they retire. And these gifs get even better when you pair them with these:
I just imagine this gif accompanied by a good beatbox rhythm. And then there's the next one, which BLOWS MY MIND: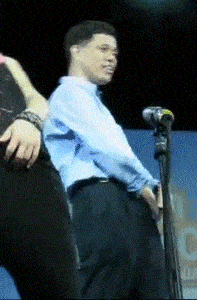 P.S. All these gifs were found on Hardwarezone and the interwebs. I don't know who made them. If it was you, please leave a comment or send me an email so you can be credited!
And by the way, does anyone remember what Lui Tuck Yew was talking about when he did this?